We woke up at 6:00am and got dressed and packed to head back to Churchill. We ate breakfast and got all of our gear onto the Polar Rovers and headed to Churchill. We saw the Polar Bear Jail, and they were actually bringing three of the bears out to the ice. We then went and shot the entrance sign to Churchill, and went to a trading post and saw some young huskies and two puppies. Then we went to go on the dog sleds and we had a camera crew there filming the family for a show on BBC. I got some great footage with my GoPro, and dad got some nice footage too. I played in the snow for a few minutes too, then we went back into town to have lunch at the Sea Port Hotel. I ate British style Fish & Chips, then ran to the shops before We had to leave for the airport. I got an awesome hat and a really cool t-shirt. We got on the plane at 2:14pm and we got back to Winnipeg at close to 5:00pm and we got back to the Fort Garry Hotel and got into our room, 435, and relaxed for a few minutes. We went up to the 9th floor to drop off our parkas and boots, then went to our farewell dinner. We talked with the rest of our crew and took photos with Rinie and Eric. We said our goodbyes, then we got back in the room and downloaded photos and took showers. We packed up and laid out our clothes for going to the airport tomorrow.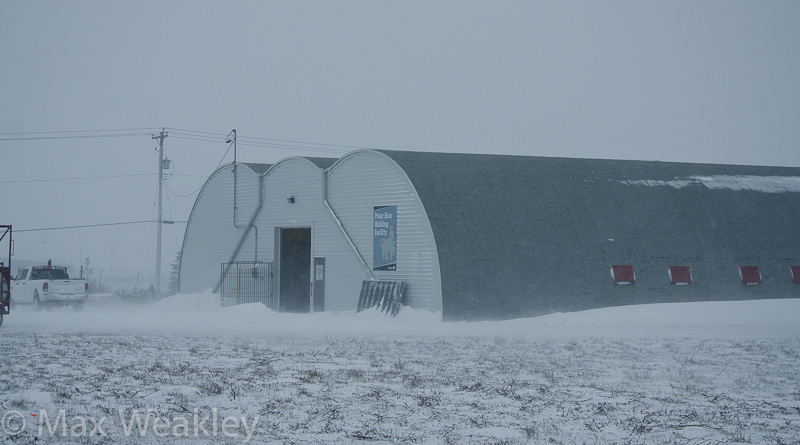 This is the Polar Bear Holding Facility, better known as the Polar Bear Jail. The bears that roam around in or near the town are trapped and brought here until the Hudson Bay freezes over, or they catch too many bears.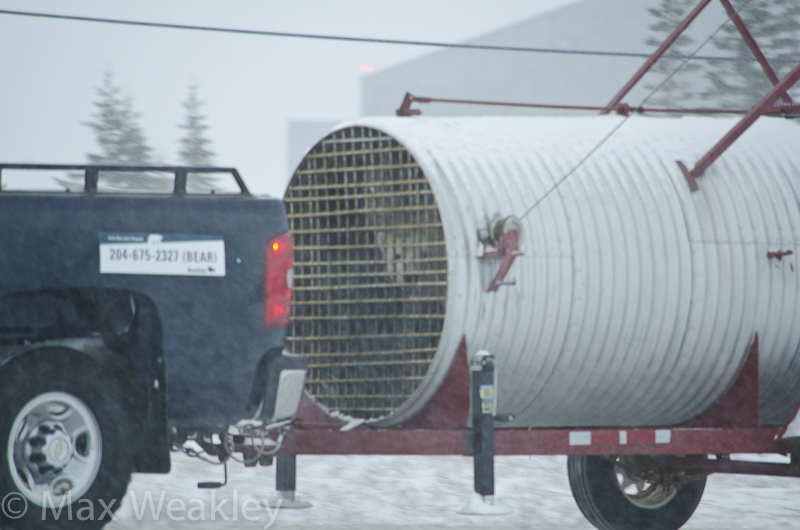 This is one of the traps with a bear in it, and they were bringing her back onto the ice.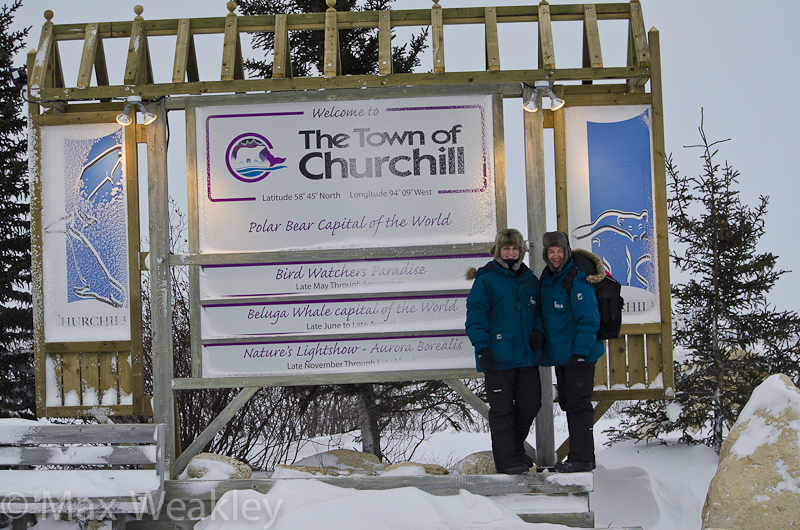 This is my dad and me in front of the Churchill sign.

We got to play with some husky puppies before we went on a sled dog ride just outside of Churchill.

This was one of the really young huskies that I played with.

And this was his brother.

If you were to compare Churchill to New York the Ravens would be the pigeons, that's how numerous they are!

This was one of our sled dogs.

My dad and me before going on the sled ride. I had my GoPro strapped to my head and I got some great footage.

These were our guides, Rinie was on the left and Eric was in the middle.