I woke up at 6:30am, got dressed for breakfast, and when I walked outside the wind almost pushed me over! It was freezing because we had a 30-40 kilometers per hour (48-64 miles per hour) winds and those winds will pull all of your heat away from your body, so if you don't have heavy parka you will freeze to death. So I ate some potatoes, toast, and cereal. After breakfast I went to my bunk and put on my layers: my neck guard, a windproof hood that looks like a ninja mask, my rabbit fur trapper's hat, long underwear top, turtle neck, wool sweater, parka, boxers, long underwear bottoms, pants, ski-pants, silk glove liners, gloves, thick wool socks, and snow boots. At 8:05am we headed out to look for some bears, and at 8:27am we saw our first bear of the day way off in the distance. As I was taking some photos of the bear, the wind caused me to tear-up, and that tear froze on my eyelashes causing them to freeze close. I had to sacrifice a few eyelashes so that I could open my eye. We did get some cool shots of him with the wind and snow blowing. During the time that we were photographing the bear the sun was rising and causing a Sun Dog, which is a kind of rainbow made when the sunlight goes through ice crystals and it forms a circle around the sun. Sadly it didn't make a complete circle, but it was still very cool to see. We also got some nice shots of the wind blowing on the ice. About an hour later we saw another Polar Bear with some great backlight on him. Then like the first bear, he hunkered down behind some willows. We stayed with him for another 20 minutes until he fell asleep, then we moved on. We saw tons of bear tracks and some shelters that they slept in the night before, or had just dug a little into the snow for a barrier from the wind. A little farther out there was a bear that was almost completely covered in snow, and we waited on him for a few minutes then we realized that he was asleep, so we moved on. After 15 more minutes we found another bear in the same condition, so we took some shots and moved on. Then right before we got to the lodge we found another bear hiding behind a snow drift. This bear was a little more active and she looked up several times but went back down after. We then got back to the Tundra Lodge at 12:14pm and ate a lunch of spaghetti and meatballs. While we ate lunch the bear we saw right next to the lodge came up and I got some great shots of her with some sidelight and backlight. After she walked back into the willows I went to my bunk and took off my layers, took a shower, and worked on my photos. Then at 5:45pm I walked over to the lounge where I sat and talked with some of the other people, and at 6:05pm we went to the dinning car for dinner. I ate crab-cakes, chicken in a lemon and time sauce, and mashed potatoes.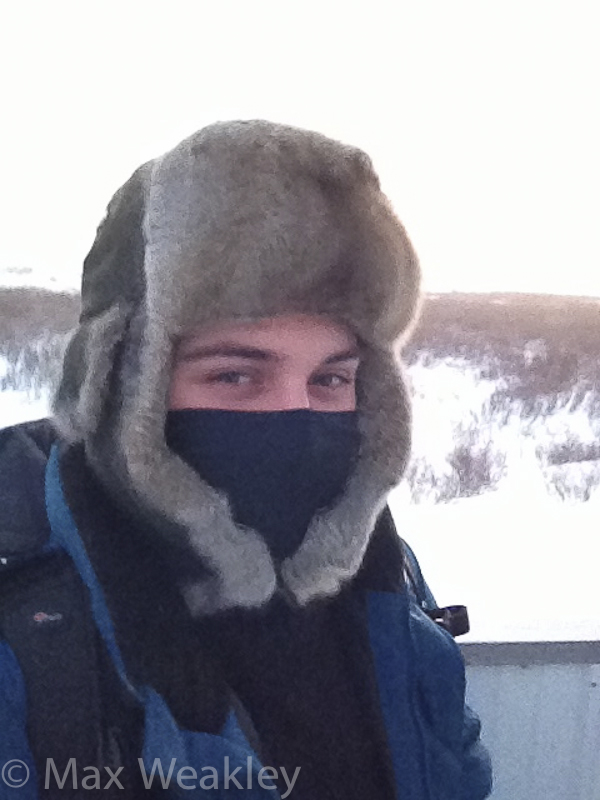 Me in all of my layers.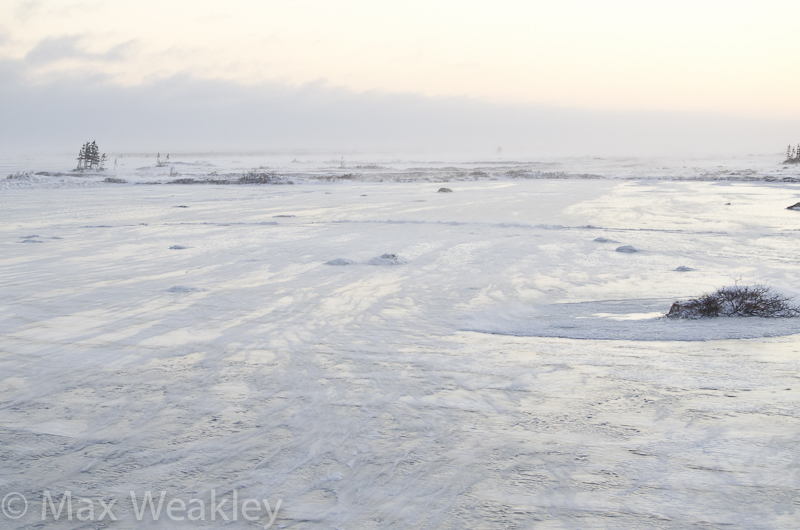 40-60 mile per hour winds, which makes 10˚F feel like -40˚F!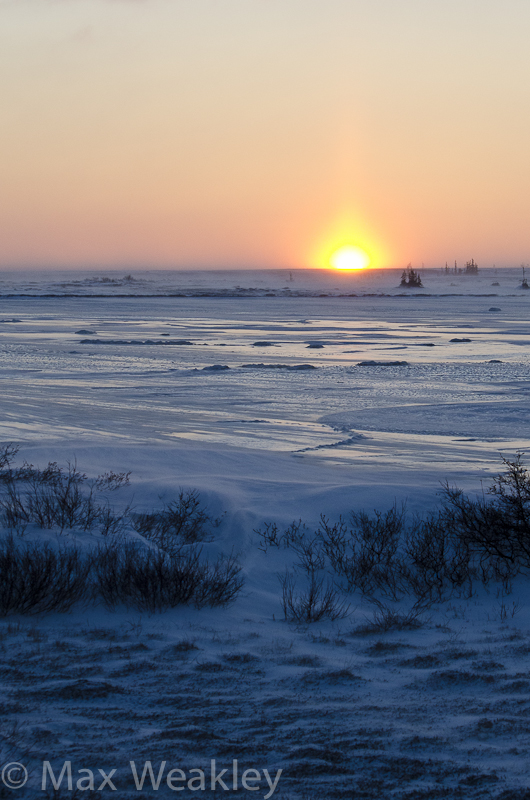 Sunrise that we saw on the Polar Rover. The funny thing is that on the only day that we saw the sun, that was our coldest day as well!

This is called a Sun Dog, and it is basically an ice rainbow. The sunlight goes through the ice crystals in the sky, and if it is a really good Sun Dog, it will make a circle around the entire sun!

This was our first bear of the day, and he was gorgeous! The backlight and the snow and wind really made the shot.

This is that same bear, and now he is walking away from us.

Here is a bear that just laid down in the snow to take a nap, and the snow started coving him in just a matter of minutes!

This is a bear that walked next to the Tundra Lodge. The backlight and clean white snow made this shot one of my favorites.

Here she is again, and she just finished digging around in the snow, as you can see on her nose.

This is in my top 5 shot from the trip. It just looks like a book cover!

This is another panoramic that I took with my iPhone, but this is my bunk, and you can actually see me twice in this picture.