I woke up at 7:30am and got dressed to have breakfast and I looked out my window and there was a beautiful sunrise that I photographed, and while I was shooting the sunrise I saw a bear that was right under the kitchen car. I took some photos of her and then I went to breakfast where I had eggs and potatoes. After breakfast I went to the end of the lodge where I saw the bear walking away with another bear. After a few minutes the second bear turned around and started walking back to the lodge. I got some stunning shots of her and then a third bear came walking out of the willows and came to the lodge as well, where I got some great shots of her. After 20 minutes we had to board the rovers and we sat there and photographed the bears for a little longer then headed off. We saw a mother and her cubs almost immediately, and I think that it was the same pare that we saw yesterday. Then, after they walked away, we found a big male that had a broken jaw and his lower right canine was outside his lip, not through it. He was very playful and he rolled and slid around in the snow for a few minutes and we got some awesome shots of him and the broken ice behind him. Then we moved on and right as we were leaving a Snowy Owl took off in the distance and we only had a few seconds to get a shot before he was too far to see any more. Right after that it started to snow lightly. We then saw another mother and cubs, which I think were different from the first two. We got some good shots of one of the cubs running to catch up with the mother. Then we found a bear lying down with her head resting on a rock, and after a few minutes of that, she stood up and walked right to our rover and even went under our deck. Then on our way back we found two more bears on the ice while it was snowing, and back at the lodge the two bears that were there in the morning were still there, hunkering down in the willows. We worked on photos from 3:30pm until 5:50pm, and then we went to dinner at 6:00pm. We ate scallops, halibut, sweet potato puree, and baroquely. While we were eating dinner we had another Polar Bear standing outside of the lodge! When I went outside to go to the bunks to work my photos the wind had picked up substantially and the little, light snowflakes turned into sharp, icy blades that stung my exposed skin. Unfortunately the clouds covered the sky so we couldn't see any Aurora Borealis, fortunately though I was able to get some more sleep. I finished going through my 2,310 photos at 9:23pm and went to bed with the wind howling and moving the lodge.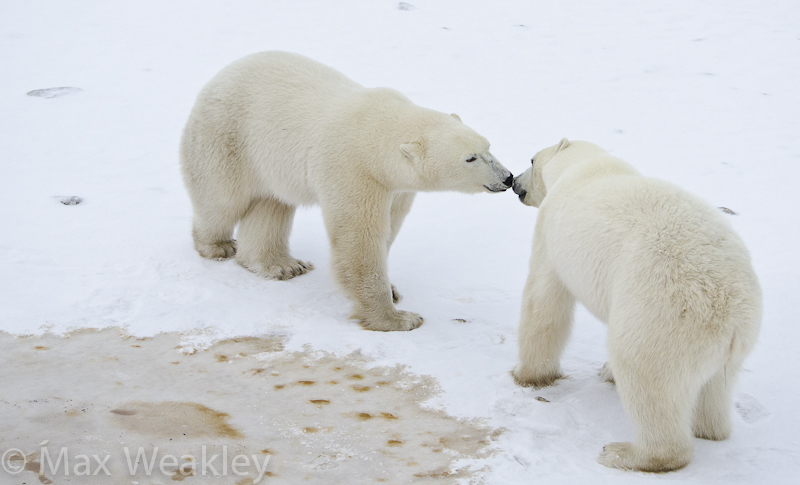 This was the first set of bears that we saw that day, and they were right off of the side of the lodge! They started to look like they were going to spar, but they didn't unfortunately.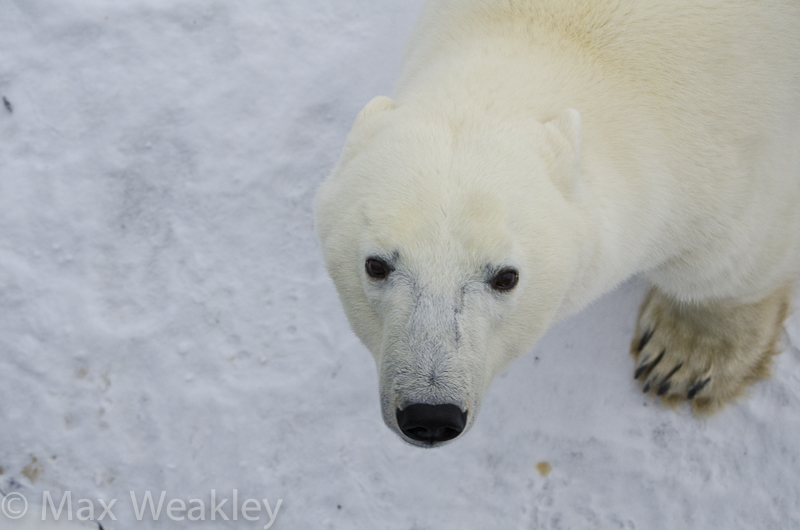 One of those bears walked right next to me and looked up.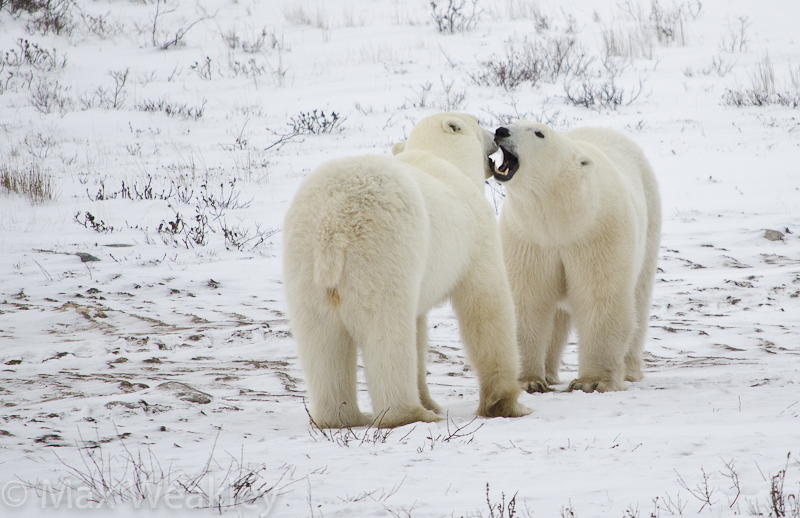 They actually did do a little spar, but they only opened their mouthes.

This is a panorama of the outer deck of our Polar Rover that I took with my iPhone.

This is our first set of mother and cubs that we saw that day, and our second set that we had seen during the trip. Unfortunately they didn't stay with us for very long.

This is Snaggle Tooth rolling in the snow to dry off after a dip in the Hudson Bay. Snow is a great insulator, and animals use it to dry their fur so it doesn't ice up.

Here is Snaggle Tooth again, he just walked right up to the windshield of the Polar Rover. You can see his jaw injury better here. We think that he got it from fighting another bear.

This is a Snowy Owl that gave us about five seconds to focus on him before he took off and flew across the ice.

This was our group inside of the Polar Rover. Our group was called the COYs, or Cub Of the Year, and that means that the cub was born from January to December of that year. The age of bears is usually determined by size, the only way to tell the exact age is to count the growth rings in their teeth, like a tree.

This was our third set of mother and cubs that we had seen during the whole length of the trip. They meandered around in the willows for a while, but they didn't stay with us as long as the first set.

This was the bear that we saw who was sleeping on a rock that could date back to the creation of Earth!

This is me with the bear behind me. I was the only one on the deck while taking photos of the bear.

Then she stood up and walked right under our feet.

This is the snow storm that came in that night.