I woke up at 6:00am and started working on my photos that I took of the Aurora Borealis. I then went to breakfast and ate a croissant, eggs, bacon, and potatoes. I also drank coffee! We then got on the Polar Rover and headed out to find Polar Bears, and right as we pull out we see a bear under the lodge! She was eating the ice that was from the kitchen sink. We photographed her for about 20 minutes then she started to walk to us. The bear actually went under the grate on the platform that we were standing on. I got some really good close ups of her, then we moved on to find some more bears. About an hour later we found a mother and two cubs. The cubs couldn't have been more than a year old. We stayed with them for nearly two hours getting tons of amazing shots. Then we took the 30 minute drive back to the lodge where I had lunch, took a shower, and worked on my photos. At about 4:10pm there was a bear outside of the lodge and she walked into the willows and came out behind them with another bear. We then finished weeding photos and then we went to dinner. We ate pork tenderloin, rice noodles, and prawns. After dinner we had a talk about why the Polar Bears came to Churchill, and right after that we got our camera equipment and started photographing the Aurora Borealis again! We also ran to the front of the lodge to see the two bears that came close to the lodge earlier. We stayed out shooting the Aurora Borealis until 10:00pm because some clouds came in and blocked our view of the aurora.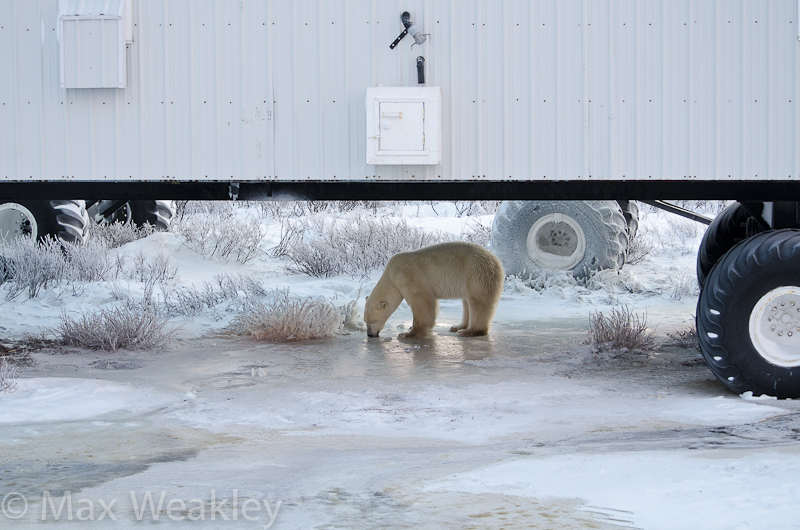 This bear was trying to get something that leaked from the sink that was under the ice, under the Tundra Lodge.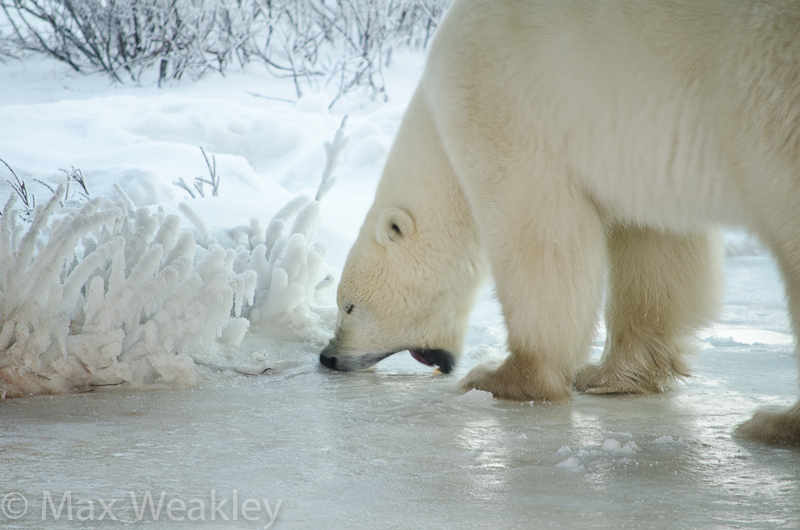 She was putting all of her weight onto her teeth to bite through that ice.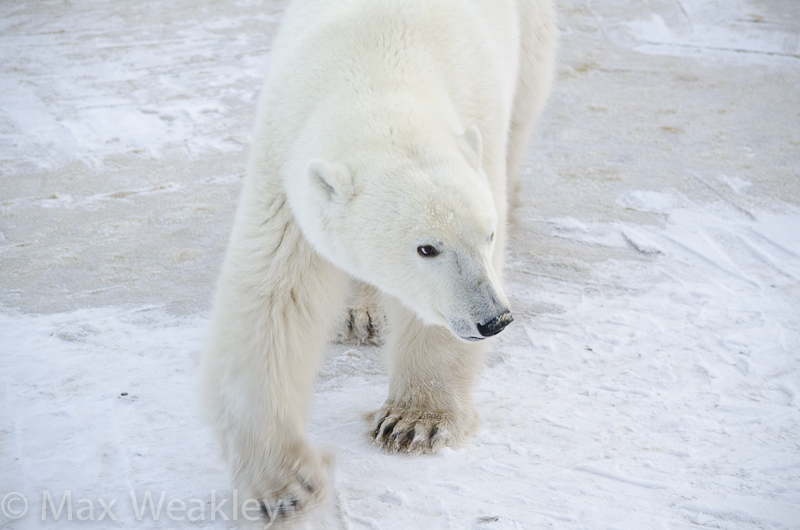 This is that same bear that was eating the ice, and now she was headed right for us.


Don't worry though we were at least 4-5 feet above her.


She sat right next to the tire on our rover. But as you can see, her left eye was damaged by something, and we don't know what.


This was our first set of mother and cubs that we saw the whole trip, actually they were the first set of Polar Bear mother and cubs that I had ever seen.


They laid down for a few minutes and the little cub in the back was such a character!


My dad and me with our arctic gear on.


This was the same set of mother and cubs, but now they are much closer and they were eating some kelp.


This was a bear that was walking through the willows near the Tundra Lodge with a one third a second exposure, 640 ISO, and 5.6 f-stop.


Our second night of Aurora Borealis!!!