Every time I go to Paynes Prairie I see something new or something I didn't see before. I will sometimes see the wild horses, but I didn't see them this time. Instead I saw a Whooping Crane! They are some of the most endangered birds in the world, and they come to Paynes Prairie fairly often.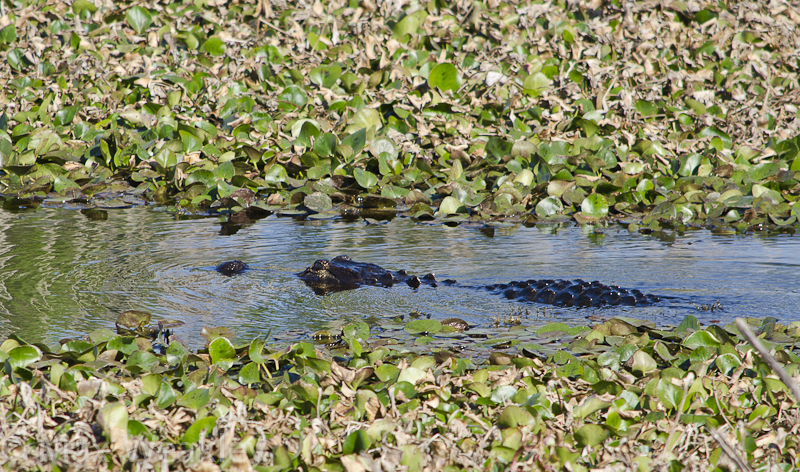 Fortunately there is one animal that I can guarantee that you will see, and that is the American Alligator. They are around every bend there and they can be from eight inches long to eight feet long!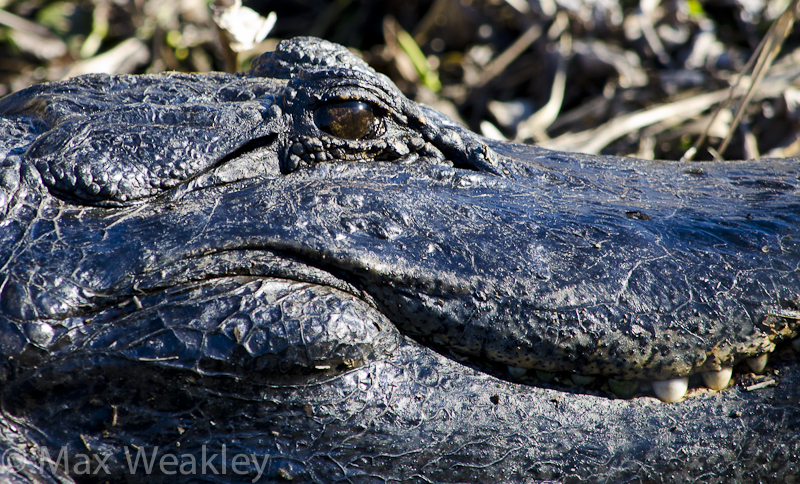 Sometimes they will get a little closer than you might like. This one is well over eight feet long and he was laying right off of the trail! These creatures are from the same age as the dinosaurs, and they don't look like they have changed one bit. The bite strength of an alligator is greater than that of a Tyrannosaurus-Rex! And when they do latch onto you, their jaws close like a vise and will not open, then they will spin to rip off chunks of flesh! They are very vicious animals.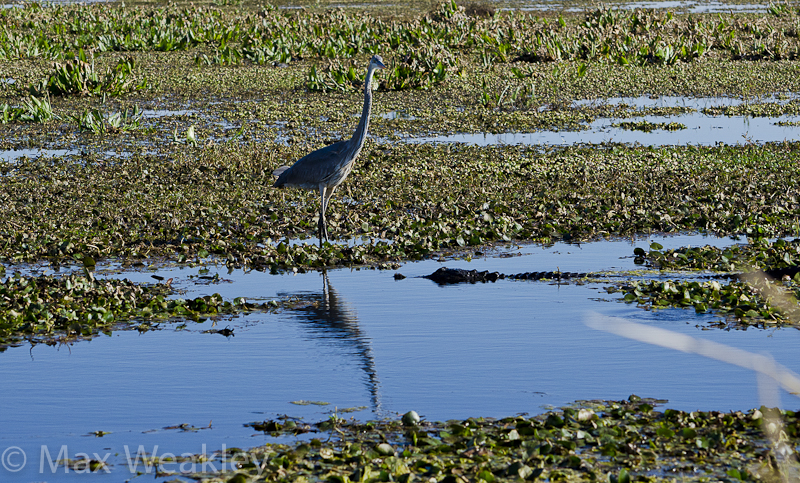 This is a Great Blue Heron that had a alligator swim up to it. I half expected it to attack the heron, but it ducked under water and disappeared!

These are two Snowy Egrets that were standing in the water waiting for small fish to swim by so they could have an easy meal. These birds were hunted to near extinction because of their ornate feathers, but were saved when Theodore Roosevelt created the National Audubon Society to protect these birds.

This is a Great Egret hunting. It landed in the weeds and stood like a statue for twenty minutes before striking. As it flew away we saw that it had a snake in its mouth!

This is a Wood Stork that was hunting for snails and clams. This is one of my favorites of the day because of the back light!

This is my favorite photo of the day, the Whooping Crane and the Great Blue Heron. You can see the radio transmitter on the leg of the Whooping Crane, every Whooping Crane has one so they can monitor where they go to protect them.
I hope this information was helpful to you and I would appreciate it if you would follow my blog. I also have a YouTube channel based on survival, and I would appreciate it if you took a look at that too (http://www.youtube.com/user/maxweakley). Thank you.